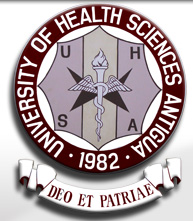 The University of Health Sciences Antigua (UHSA)
, located at Dowhill Campus, Piccadilly in Antigua is an outstanding, privately endowed institution that is in constant pursuit of excellence in teaching, research and community services. Further, the University educates for life, provides continuing education to working professionals and addresses national, regional and international challenges in medical, agricultural and liberal sciences.
The University of Health Sciences Antigua is a professionally-oriented institution, which is (i.) unique in the effective utilization of information technology in supporting and complementing the educational delivery activities of the institution to students globally, (ii.) second to none in extending education to working healthcare professionals such as Nurses, Physician Assistants, etc. in an effort to globally increase the number of primary healthcare physicians practicing in the rural and medically under-served areas around the world, including the United States and (iii.) outstanding in the use of innovative instructional methodologies and didactic methods in the teaching of medical and Agricultural Sciences as well as Liberal Arts and Sciences.